Meet Shakespeare's Wife!
One of our finest....!

Johanne Murdock
actually excelled herself - unbelievably!
- with her brilliant performance as Shakespeare's wife -
at the Yvonne Arnaud Mill Studio Theatre
Guildford
The members of the audience were spellbound - as was the director! - and she was rightly applauded to the roof (there may well now be cracks in the ceiling!).
In the past many were able to find out what Shakespeare's wife - Anne - really thought of him. And the low-down on their life together! "The Other Shakespeare" by Roy Chatfield - after a very successful performance at Anne's original home in Straford-upon-Avon (Anne Hathaway's Cottage) - was performed again at Queen's College Oxford, in the Shulman Auditorium for a run of four, highly successful and very much praised performances. One young woman said repeatedly afterwards: "How did she do it! I don't believe it! How could she do all that! It was fantastic! Amazing! I just can't believe it!"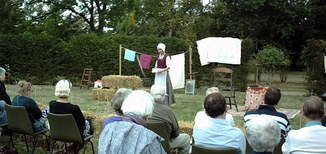 Johanne Murdock tells it like it is to be married to the most successful writer ever!
The public premiere of Roy Chatfield's play "The Other Shakespeare" was at Anne Hathaway's Cottage in Stratford-upon-Avon.
One reviewer wrote of an earlier production in Oxford:
THE OTHER SHAKESPEARE
Still on the subject of Shakeapeare, I rounded off his birthday yesterday by witnessing one of the most brilliant bits of theatre I've seen in a very long time: a one-woman show, about Will's wife Anne Hathaway.
Now, despite my interest in Shakespeare (did I mention that I studied him for my MA?), I should confess that I have never really cared much about Anne's story. Last night's performance set me right, demonstrating that imagination and empathy can bring even the most shadowy historical figure to life.
Writing this hours later, it still seems quite incredible that the actress playing Ann (Johanne Murdock, pictured above, after the show) could even remember all the words, let alone deliver them with feeling, in a performance that lasted nearly 90 minutes. The Other Shakespeare, by Roy Chatfield, was not like Krapp's Last Tape (one of my all-time favourite plays), which passes largely in silence: in Chatfield's play Anne chatters rages frets and dreams aloud throughout. And sings.
Several bits will stick in my mind: the joyful dancing; the harrowing death of her son, and his funeral while Will was in London; the pain of knowing that all Stratford had read her husband's lovestruck sonnets, written for somebody else; and the very funny moment when Anne, full of scorn, showed Will that she, too, could act - then roared like a medieval mummer doing Herod.

It's extraordinary enough when actors, together with each other onstage, put something across with such conviction that you suspend disbelief and become truly absorbed. For Murdock to achieve that alone, with nobody up there to play off, and to move seamlessly through such a range of moods - as Ann's life gradually unfolds - is frankly miraculous. This was live theatre at its absolute best. Hats off!
I'm not the only person who was impressed. Afterwards I overheard the author, who had never met Murdock, saying he felt dazed by what she'd done. (In a good way, lest there be any doubt.)
ROY CHATFIELD - PLAYWRIGHT
Roy has a long and distinguished track-record as a writer of plays:
His play, Tarbaby, was selected for the 24th Croydon Warehouse International Play Festival;
"Waiting for the King" was premiered by the Andover Unity Theatre, and "The Great Santa Kidnap" is booked to tour this winter with The Baroque Theatre Company.
"Bedlam Boys" has already been given rehearsed readings at the Nuffield Theatre in Southampton and by the Royal Shakespeare Company in Stratford.
"The Other Shakespeare" was brilliantly and successfully performed (with Johanne Murdock) in Oxford on Shakespeare' Birthday in 2012 – as part of the Shakespeare United link with the Cultural Olympics and the Olympic Games.
JOHANNE MURDOCK
It would be no exaggeration to say that Johanne Murdock has a recent Shakespearian performing record "as long as your arm".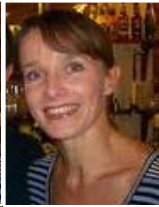 While the photo above was taken when she was in the musical play "Stepping Out" she has, more recently, played, on stage, the roles of Lady Macbeth, Hamlet's mother Gertrude in "Hamlet", Queen Elizabeth in "Richard the Third", Puck in "A Midsummer Night's Dream", Mistress Page in "The Merry Wives of Windsor" and recently toured with Shakespeare's Globe in "The Comedy of Errors". She also played Octavia in John Dryden's version of the Antony/Cleopatra story, "All for Love" in London, but has managed to fit in pantomime with "Aladdin" in Wakefield, "Cinderella" in Bury St Edmunds, and "A Christmas Carol" on tour.
Her latest TVs have been "Holby City", "Doctors", and "Judge John Deed".
Ian Flintoff (director) has worked with the Royal Shakespeare Company, the Royal National Theatre, numerous regional theatres and onstage at the Old Vic in London. He was in the Daniel Day Lewis/Judi Dench Hamlet at the National, and has been in Coronation Street, A Touch of Frost, Prime Suspect – and has acted in many of Shakespeare's plays including Measure for Measure, The Merchant of Venice, The Merry Wives of Windsor, Love's Labours Lost, Henry IV (parts One and Two) and has played pretty well every part in Hamlet at one time or another, except Gertrude, Ophelia and the Lady-in-Waiting! His own plays have been produced in Edinburgh and London, and three films he scripted have been shown on general release, his writing broadcast on the BBC. He also directs talents like the above whenever he can. For any of the above, or for this production, contact via Ian Flintoff at [email protected] 01865715870 www.pitchforkproduction.com